A Polyclinic for the Democratic Federation of North Syria/ Rojava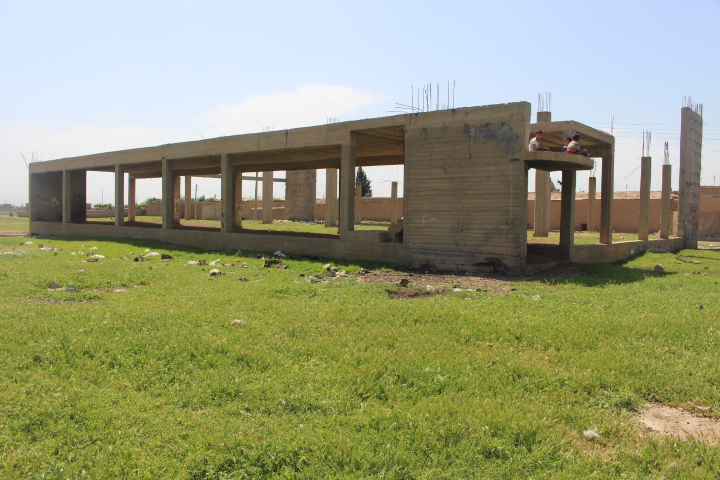 this will be the place of our site. We will with the construction of the
first section at the fall of 2017. The aim is to lay a foundation stone
for the clinic and build a doctor's surgery in the covered part of the
depicted building site. This surgery will have floor space of 100 sqm
and form the first module of the polyclinic.
The construction will take place along with WJAR (Foundation of the free woman Rojava). Both the planning and the implementation will be a
collective process.
To do this, local residents will be encouraged to participate in the
construction process.
Objectives of the project are to organize an equal work and everyday
life together. We deny capitalism's profit orientation and the ideology
of merit and will show that working as a collective process is possible.
Another aspect of the site is to build as environmentally and
sustainably as possible. Technical exchange and common learning will be of primary importance.
The material – clay
The picture shows clay stone production in the woman village Jinwar in
the Democratic Federation of Northern Syria/ Rojava.
Because of the war the production of primary ressources has come to a hold in the Democratic Federation of Northern Syria/ Rojava. Therefor we will adjust to the supply situation that we will encounter at the time when the construction starts. The Democratic Federation of Northern Syria/ Rojava as a Region is encircled by Djihadist Daesh gangs at the one hand and hostile Turkey under the regime of Recep Erdogan's AKP at the other hand. Furthermore there is a shared border with the autonomous Kurdish region in Iraq. However, the regional gouvernment in Basur / South Kurdistan under the regime of Barzani pursues a neoliberal policy and maintains close contacts with Turkey. So purchasing building materials from this source will be restricted.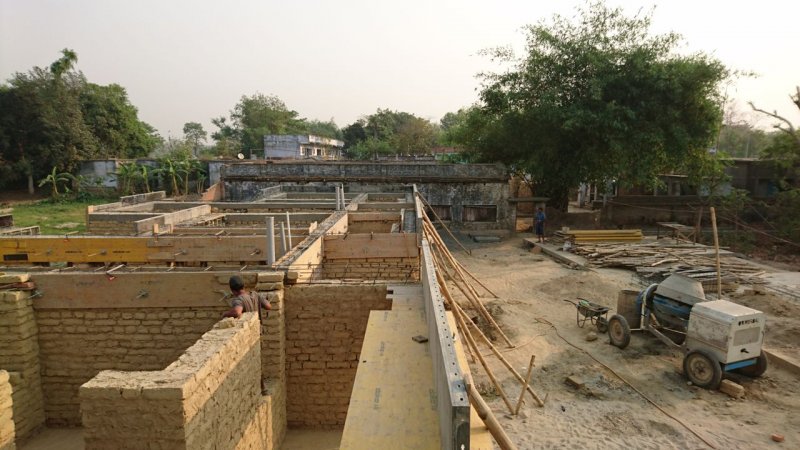 (Example: clay steel construction)
As a result, our attention focuses on the regionally available building
material clay. In the region clay has been used for millennia and we
want to make use of this design without giving the impression to build
"like a thousand years ago". We think that clay is versatile and
according to current findings, as well as from an environmental
standpoint, fulfills the requirements as a modern building material very
well.
Clay alone does not make a modern building and often does not reach it's full potential using traditional construction techniques. Combining
contemporary techniques and traditional construction methods, as well as the circumstances on the ground, will ultimately determine the design. We will use concrete as a supporting element in combination with clay. For implementing the technique of mixing reinforced concrete with clay stone we have developed different concepts which are developed and tested on the ground.